Staff support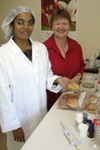 With inexperienced Junior staff on board, or senior staff on leave, you may be temporarily short of senior experience. We can help out with supporting your staff and giving them the benefit of our experience. Examples include regular attendance at your company staff meetings and one-on-one contact with staff to assist with projects, brain storming or troubleshooting, and email/phone backup for those occasions when they would like a second opinion. Anny's experience means that problems often can be solved quickly, sometimes even over the phone.
Software training
Anny has a strong interest in using specialised food technology software for her work, where it can save time and money. If you would like some unbiased help in selecting the right software for your needs, ask her. She can point out the pro's and con's of the different packages and find you the one that suits your needs and budget.

Anny can help you get started so you get the benefits faster. Her efforts to find the right software for herself, has seen her travel the internet widely, and correspond with many overseas software companies. Her knowledge has been shared with other food industry staff at NZIFST conferences, and in regular critical review columns in ′Food Technology in New Zealand′ (FTNZ) and ′Food New Zealand′ (Slice Media; for NZIFST). Both FTNZ and NZIFST/Peppermint Press (Food NZ) have kindly allowed her to also publish these reviews on-line, and Anny offers client support for a range of food tech software that she uses regularly i.e. FoodWorks (Xyris), Genesis R&D (ESHA), ECHIP, DesignExpert (StatEase) and FusionPro (S-Matrix).
Short-term projects and training
On occasion we may have short-term projects available which could be suitable for student or recent immigrant work experience. Work and Income, in combination with the Auckland Chamber of Commerce runs the New Kiwis Work Experience programmme. New immigrants requiring work experience are advised to visit the New Kiwis web site and register their interest BEFORE they contact us.

PLEASE NOTE: We do not currently employ staff, may not be able to pay you, will not help you obtain a visa, or give job guarantees. We will only reply to genuine emails or queries.

Top