New Foods and Drinks
New products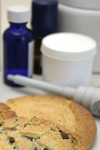 First and foremost a food should look, feel, smell and taste right. While the right product image and price point are critical to invite trial, the repurchase essential for profit will only happen if your great
new food product
consistently delivers that taste and texture that makes it stand out from the rest. We can help you achieve that
success
based on years of experience working with flavours and food ingredients in a wide range of
food and drink products
.
An example of a new product developed is the Spice Range "Alexandra's Bazaar" with North African flavours, developed with Katherine Clark (Alexandra Fine Foods). Most of Anny's input was in the Tagine, Berbere and Harissa Mix which deliver authentic flavours for NZ cooks looking for new and exciting flavours. Anny also worked out the nutrition and ingredient labelling for the range.

An example of an earlier dairy based product range developed by Anny is the Vivaldi Concerto indulgent rich hot chocolate drinks launched in 1998 and discontinued in 2005. The Vivaldi Cafe Coffee N Irish ("I can't believe there is no alcohol") was also one of her creations.
For an overview of products developed, please click here. So how much will it cost? It is a bit like asking "how long is a piece of string". The first step of a project is generally a feasibility study which typically will only cost around NZ$500-$1000 (+ GST) and works out basically whether this is go/no go. When you then decide to continue, you are typically looking at, based on our experience, a small project cost of around NZ$3,000 (+ GST), but this can range from NZ$1,000 to $10,000-plus (+ GST). Costs obviously vary depending on the complexity of the formula (more for novel, less for "met too" products), technology and processing involved, and the number of variants wanted. More involved projects can go up to $20,000 (+ GST) or more. So ask us for an estimate for your project.
Development and problem solving
A practical hands-on approach is used for most development work, in a dedicated food development laboratory (See Facilities), where we work out different variants for you to test and taste. Based on your decisions we will then fine-tune it to get it "just right". When it appears that it is impossible to meet all the targets, we work out the most acceptable compromise between taste, cost, process fit, etc.

At times sophisticated software is used to tackle the more challenging tasks. With this approach, problems in shelved "too hard" projects are often solved in a short time. Similarly, software is useful where cost savings are needed but quality maintained, and in projects where a sturdier "less error prone" product or process is needed.

An example is the case where a client had worked on a project for years, finding that it was impossible to balance all the objectives at the same time, and "going round in circles". A systematic approach using Design of Experiment software (click here for reviews of some options) unraveled the complexities, and came up in a short time with new formulations as well as a clear understanding of what made the product "tick".

The same software (Fusion Pro or Design Expert) is also used for Data Mining to analyse existing data and discover underlying patterns. This has been used successfully to identify the effects of seasonal variations, raw material changes, processing effects and even the interactions between them.
Processing and packaging
We will also help sort out your processing and packaging requirements or those of the contract manufacturers/packers you want to use, liaise with suppliers of those services and your own production team to achieve a consistent, stable and safe product. We are set up with facilities to run accelerated storage trials, so the answer to the question "How long will this formulation be fine in this packaging" can be found quicker.
Trends and new ideas
Speed is of the essence in today's market: "...It is the fast that beat the slow, not the big the small...". In order for you to stay that critical one step ahead, we keep our regular clients up to date with international trends, new ingredient opportunities and new product ideas so you can be there faster first with that great new product. Regular attendance at industry conferences and seminars as well as ongoing tapping into overseas resources makes sure we can help you anticipate the future. We inform our clients of relevant trends in food technology, new product trends and new ingredient opportunities.

Training and support
With inexperienced Junior staff on board, or senior staff on leave, you may be temporarily short of senior experience. We can help out with supporting and training your staff and giving them the benefit of Anny's experience. Examples include regular attendance at your company staff meetings and one-to-one contact with staff to assist with projects, brain storming or troubleshooting, and email/phone backup for those times when help is needed. Anny's experience means that problems often can be solved quickly, by personal contact or sometimes even by email or over the phone.

Top