Get your nutrition and food labelling sorted out now
Getting nutrition right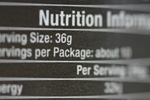 Keeping track of the
nutrition profile and costs
at the same time as developing a new product is important to be able to meet the
health
and
life style
needs of your
target market
, as well as leave you a with a healthy profit at the end of the day.
The availability to Anny of tailor-made
nutrition calculation software
makes it easy to monitor the effects of any formulation change instantly. The software packages used have databases with composition details of over 25,000 foods, including hundreds of specialised food industry ingredients. Reformulation for nutrition targets such as those in the Heart Foundations
"Pick the Tick"
programme is quick as the software explains exactly how much and what % of a nutrient (e.g. saturated fat, sodium/salt) comes from which ingredient. The software can also track allergens and Glycaemic Index details and vitamin, mineral, amino acid and fatty acid profiles, which is of great help for
sports foods, infant formula and supplemented food
formulations.
Complying with FSANZ Food Standards Code & NZ Supplemented Food Standard.
We will make sure that all
legal requirements
on composition, label claims and ingredient declarations (including additives, sub-ingredients and water) are met. We let our regular clients know if there are food regulation changes coming up that may affect them so they can anticipate the effects. We sort out your
labelling
requirements to comply with the FSANZ regulations to the last nitty gritty detail, especially on
allergens,
characterising percentages and GMO declarations. We can explain to you the procedures that need to be in place to confidently declare your product
"GMO free"
. Then you do not need to worry about the risk of costly and embarrassing recalls, or having to understand over 500 pages of food legislation.
It is unfortunate but common to have to sort out errors in raw material information from suppliers, errors which Anny can spot with her experience of a wide range of food product labelling. Quite often these relate to undeclared allergens, and early detection can save you from a risky recall situation.


Cost of labelling advice
The
cost for advice
varies greatly depending on the accuracy and completeness of the information available, and the number of products using the same raw materials. Contact us by [ ] for an estimate for your particular situation.
Typically the range is from $300-$600 (+ GST) per label, which not only covers the
Nutrition Information Panel
(NIP), but also the ingredient and sub-ingredient declarations, allergens, characterising percentages, permitted label claims and all other general labelling requirements. Simple recipes, say for a fudge, would be at the low end or even less, whilst complicated formulations with lots of sub-recipe steps and maybe some moisture loss may be towards the higher end.
Note that laboratory testing at approx. $300 (no dietary fibre) - $600 (incl. dietary fibre) only gives you the composition, still leaving you to sort out the tricky ingredients listing and allergen declarations. Occasionally products such as cheeses do not lend themselves to calculations and we will incorporate the results of analytical tests into the overall label information we give you. We check the analytical results and at times have asked for retesting where results do not make sense, for instance when the result for sugars, which is part of carbohydrates, comes back as higher than the carbohydrate.
If you already have the labelling in place, but are now not so sure if it is correct and rather be "safe than sorry", we offer expert
auditing
services to give you piece of mind. You do not want to be in the situation of an importer a while back who came to Anny in a panic, urgently needing to have incorrect labelling advice (given by an inexperienced nutritionist) corrected, in order to
avoid a public recall
. This again proved that using less experienced advisers than Anny or trying to do it yourself carries significant risk. Even copying competitors labelling formats is far from fail-safe as big companies get it wrong at times, as is proven by the many high profile recalls.
You cannot afford not to use the best professional advice
.

Top
Help for Importers
We have dealt with a wide range of
imported foods, drinks and dietary supplements
from a diverse range of countries that are imported into New Zealand and/or Australia. Anny has done well over 1000 labels for clients, ranging from "Agave Nectar" to "Pickled zucchinis" for New Zealand made and imported products. It is much more than just "translating" the information as the labelling requirements between countries are hugely different, and many products have unlisted allergens, unlisted and/or even illegal additives, unknown declarable subsidiary ingredients, GMO materials, added water, and so on.
We can convert the US % RDAs into the correct NZ/Aus % RDI as there are significant differences between them. Also nutrition information rules are different in for instance nil-declaration of low amounts and for rounding off. For
exporters
we have worked with the food legislation for a wide range of Asian countries. For 'real' translations, Anny's knowledge of many languages (English, Dutch, German and some French) is an added bonus.
Examples of labelling and nutrition calculation jobs undertaken by Anny Dentener
Agave Nectar
Alcoholic drinks
Almonds
Anchovies
Apple, dried
Apricots, dried, organic
Asian curries
Astaxanthin
Bagels
Barley Grass
Beer
Biscuits
Bread & crumbs
Buns
Butter
Cakes
Calamari
Canned Vegetables
Capers
Capsicums, preserved
Cereals
Cheese
Chilli Sauce
Chocolate milk
Chocolates
Chutney
Coffee drink powders
Cordial
Crackers
Cranberries
Cream
Crisps, potato
Custard
Desserts
Diet Drinks & Shakes
Dip
Dried fruit
Drinking Chocolate
Eggs
Energy Drinks
Fish, canned

Flavoured milk
Flax seed products
Frappe drink powders
Frozen meals
Fruit Cake
Fruit drinks
Fruit juice
Fudge
Garlic, crushed, pickled
Ghee, clarified butter
Gin
Ginger, preserved
Ginseng
Gluten free bread
Gourmet meals
Gummy bears
Ham
High protein powders
Honey
Hummus
Icing
Jam
Jellies
Kumara
Lemon Curd
Liqueurs
Lollipops
Low alcohol wine
Macaroons
Malt
Margarine
Marmalade
Mayonnaise
Meats
Meringues
Milk
Muesli
Muesli bars
Muffins
Nut blends
Oil spray

Oils and vinegars
Organic Food
Pasta and pasta sauce
Pickles
Popcorn
Preserved Lemons
Propolis
Prunes
Pudding
Raisins
Relish
Rice Pudding
Rum
Salad Dressings
Sausages
Seasonings
Seeds
Small goods'
Snack Bars
Snack Foods
Soups
Spice Mixes
Sports foods
Spread
Stage 1 Infant formula
Stage 2 Follow On formula
Stage 3 Growing up formula
Stevia sweetener
Stuffing
Sundried Tomatoes
Sweets
Truffles
Vitamin Gum
Waffle mix
Whey protein powder
Whiskey
Wine
Xylitol sweetener
Yoghurt
Zucchinis, pickled